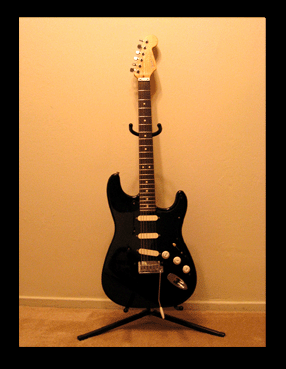 Number One
This guitar is custom made. It has been used for thousands of shows and on every recording David has made for several years. There are some serious signs of wear and tear. As you can see in the photo above, the pickguard has been changed, and the neck has some worn spots too. The guitar has been refretted several times and the neck's radius is now flatter. But all things considered, it's holding up well. It has The Mojo!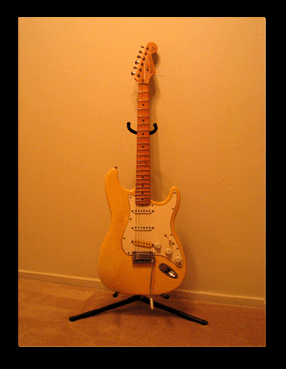 Suzy
This guitar is from the Fender Custom Shop. The guitar also has a brass nut. There was a Di-Marzio HS-3 pickup in the bridge position but it was replaced with a higher output Di-Marzio pickup many years ago. David likes the action on his guitars pretty high and he really likes the slick feel of the rosewood rather than maple fingerboards on this guitar. Even so this one has a great old Strat tone.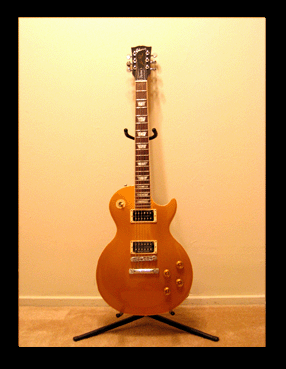 Blondie
David is also a fan of Gibson Les Paul guitars. Above is David's Les Paul Gold Top. For those who are interested in Les Pauls, it doesn't get much better than this guitar! This model of guitar is about the most collectible guitar there is and this is a fine example. It plays and sounds fantastic. David used this guitar for recording "If you leave me" a few years ago. However, his main guitar is the black Custom Strat.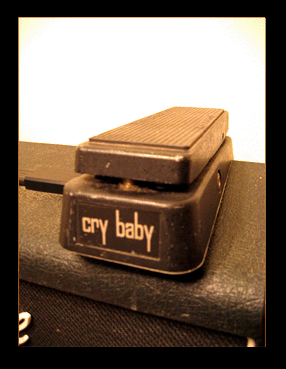 Wha Wha
This is an original Cry Baby Wha Wha pedal made in 1968 and is David's favorite pedal. David is not afraid to explore different effects or new sounds. He is always experimenting with different toys. Even so David says "…I really admire players like Johnny Nitro. He can play straight to the amp and still get the best tone out of his guitar."